If you're seeing Zoom as the Online Provider when you view your course on MyExtension, read on for more information about how to access, join, and follow up for questions/issues.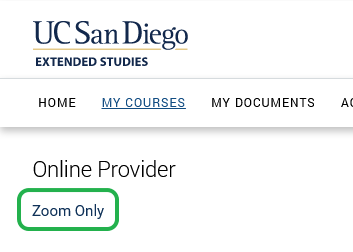 How to access
Your instructor or program manager for the course will email you at a later date the specific Zoom link(s) to join the class at the specified times in MyExtension. There is no additional online system that you need to access or log in once you retrieve the links.
How to join
How to Join a Zoom Meeting (Student)
You may be interested in reviewing the steps to join a Zoom meeting to verify you can access Zoom and test your browser/system configuration prior to the class session.
When you click on the meeting URL provided by your instructor, you will be prompted to download and install the Zoom application. If you prefer, you can download and install the app ahead of time from the Zoom Download Center.
Who to contact for questions/issues
If you experience any issues or have questions, contact the program department for the course on UC San Diego Division of Extended Studies and they will be able to assist.