If your course is delivered in the live online format, you should ensure that your students can access scheduled class meetings and recordings easily. To make accessing Zoom meetings and recordings using Canvas easy for students, please review the instructions below.
Article Contents
Verify Zoom Pro Access
To make sure you are ready for your first Zoom meeting with your Live Online course, please make sure that you are using your @UCSD email address and that your Zoom Pro access is active. The Zoom Pro access provided to you by UC San Diego Extended studies gives you unlimited meeting time. To avoid disruptions, be sure you are using UCSD credentials.
Verify your Zoom pro account is active.
To make sure your Zoom Pro account syncs with your Canvas account, be sure that your UCSD email is the email listed in InstructorLink. Your email address in InstructorLink will be automatically linked to Canvas.
Directions for changing your email in InstructorLink.
Schedule Zoom Meetings in Canvas
For Live Online courses, we highly recommend scheduling your Zoom meetings in Canvas. By scheduling your meetings in Canvas, you provide a clear path to access for your students.
Learn how to use the Zoom meeting scheduler in Canvas.
Configure Meetings for Easy Access
In addition to scheduling a meeting in Canvas, it is vital to configure the meeting so that students can access the meeting easily.
To avoid locked-out students, be sure you have all the settings for your meetings set without restrictions. Passcodes and other barriers cause student problems and generate unnecessary help desk requests.
Learn about recommended Zoom meeting settings.
Record Zoom Meeting to Cloud
You can set your Zoom meetings to automatically record to the cloud, or you can manually record all or part of your live class session to the cloud. Students can access cloud recordings by clicking the Zoom link, then clicking "Cloud Recordings."
NOTE: Your recordings are automatically deleted after 30 days, so it is a good idea to download your videos as soon as you are notified that they are ready.
Retrieve a video that is older than 30 days.
How to download Zoom meetings; upload and embed the mp4 videos using My Media.
Recording Access Problems
You should review your recording settings because students often complain that they cannot access recorded meetings.
Students can't view my Zoom recording.
Show Zoom Link in Canvas Navigation Links
Be sure that the Zoom link is visible in the course navigation if you are using Zoom with your students.
Enable the Zoom navigation link in your course (if it is not by default active). Hidden content is indicated by the crossed-out eye icon. You may notice that many links are hidden or not even visible.
To enable Zoom in your navigation links, follow the directions and refer to the screenshot below.
How to enable Zoom navigation link
1) Click Settings in the navigation links.
2) Then in the top center of the page, click the Navigation tab.
3) Drag and drop items from the lower group of navigation links into the group of navigation links at the top of the page (see image below). After dragging any desired links, click Save, which is below the inactive links list.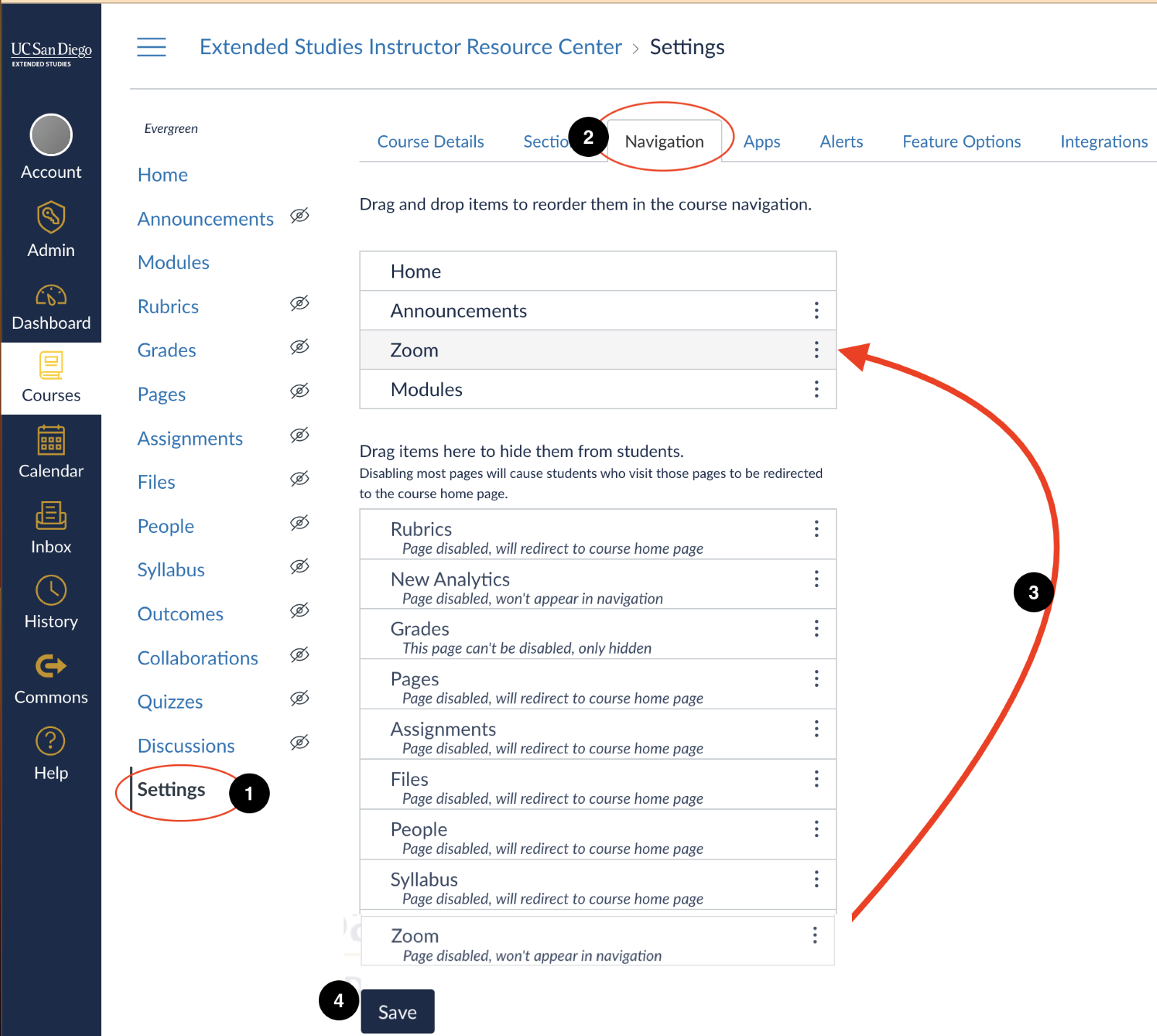 NOTE: You can also click the three vertical dots on the right side of the items (e.g., Zoom) and then click + Enable (instead of dragging). See image below.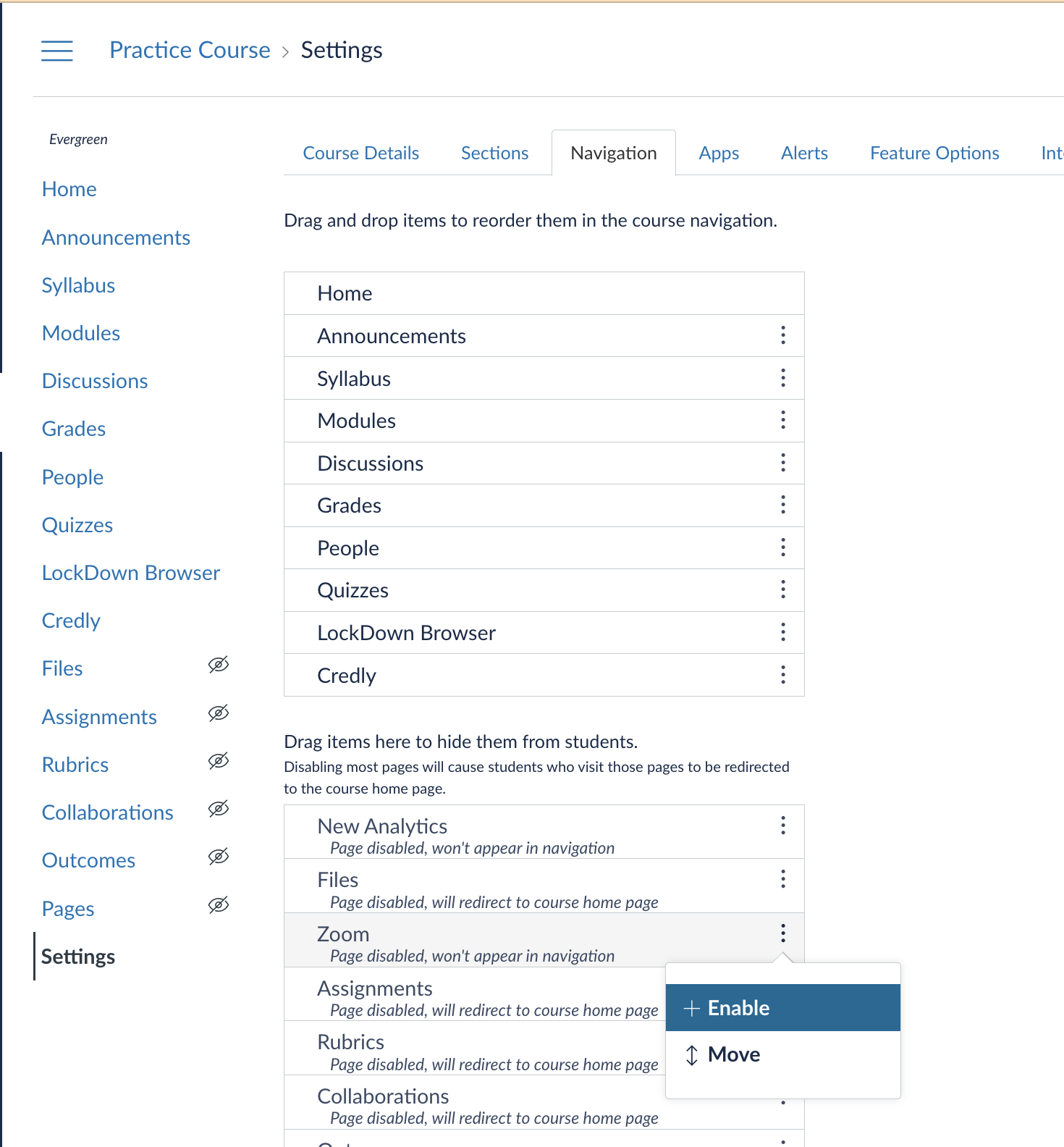 4) Be sure to hit Save below the inactive links when you are done customizing your navigation.