Zoom Pro and Canvas are standalone applications that can be used entirely independently of each other; instructors may choose to, but do not have to link Zoom Pro and Canvas. That being said, Canvas offers an integrated Zoom tool that shows up in each Extended Studies Canvas course menu by default.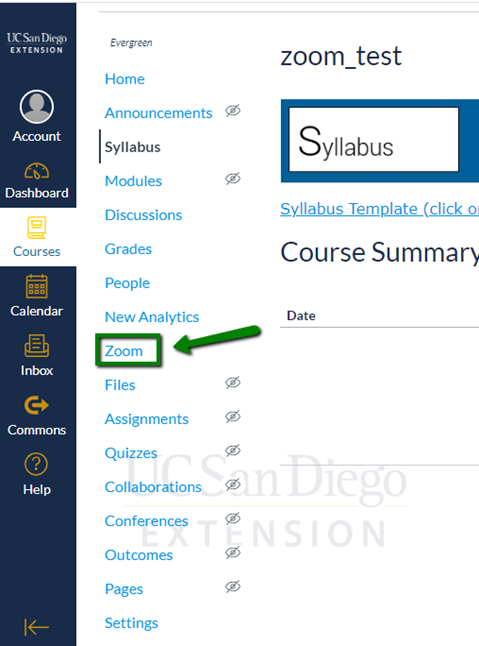 This allows all of a course's scheduled Zoom meetings to be scheduled and displayed in the Canvas course. This Canvas feature is a great convenience to both students and instructors.

The good news is Canvas can automatically sync with your Zoom Pro account. The easiest way to connect Zoom Pro with Canvas is by using your UC San Diego (@ucsd.edu) email address as your InstructorLink email address.
Instructions for updating your InstructorLink email address are included below. Once you update your InstructorLink email address, Canvas will automatically follow the InstructorLink change within one to fourteen hours. Please note that if you change your InstructorLink email address to your UC San Diego email address, now all UC San Diego work and Canvas emails will go to your UC San Diego Outlook account. For this reason, you may wish to forward all incoming email to your personal email address (Gmail, Yahoo!, iCloud, etc.).
To Update Your InstructorLink Email Address:
Navigate and login to InstructorLink: https://instructorlink.ucsd.edu.
Click on My Account in the menu on the left side of the screen.
Click on the Edit button on the right side of the screen.
Update your email and click the Save button.
Please note: Once you make this change, your @ucsd.edu email address will be your username to login to both Canvas and InstructorLink. Your InstructorLink password will remain the same unless you change it, and your InstructorLink password is the same password you use to access Canvas.
Additional Resources:
To learn more about Zoom:
If you need Zoom support please contact Computing Services: unex-support@ucsd.edu