Below is a list of new/updated features and changes that impacted our online learning systems in 2020. This article focuses on our Canvas and Kaltura systems, but will also highlight other systems used by our online users such as Zoom.
December 2020
December 19: Individual page student view (Instructors)
On most course pages within a course, there is now a Student View button that allows instructors to quickly view individual pages using the Test Student view.
The Student View button does not display in pages that are not visible to students, such as the Course Settings page. If an instructor clicks the Student View button from a page or other location that has been hidden to students, such as in Course Navigation, the page redirects back to the home page.
December 14: Zoom notifications sent by Canvas (instructors and students)
December 14- When an instructor goes through the Zoom menu option within the Canvas course to schedule and access course meetings students will now be notified when a new meeting is scheduled and when a course recording becomes available.
*If you are an instructor and do not want your students to receive an automatic notification when a new meeting is created or when a recorded session becomes available, then you will want to interact with Zoom directly through the Zoom app rather than accessing through your Canvas course.
December 2: Improved sidebar and search functionality (instructors and students)
December 12- When using the rich content editor to add links, images, documents, or media through the sidebar, you now have the ability to search for the item you want to deploy.
Additionally, you now have the ability to deploy multiple links and user files (as well as group or course files, when applicable), as those can be added to the editor without having to continually open the sidebar.
November 25, 2020 (instructors and students)
Machine-generated captions automatically available on newly uploaded/recorded media in Kaltura
To improve accessibility, all content that is either recorded or uploaded to Kaltura will automatically include machine-generated captions. Depending on the size or duration of the media, the captions should appear within 24 hours.
Please note, because these are machine-generated captions, the accuracy will not be 100%. You have the ability to edit and clean up these captions by following How to edit captions
Once Kaltura generates the captions, you have the ability to display them as captions within the media player or as a transcript below the player.
September 19, 2020 (instructors and students)
TLS protocol changes impacting users on older browsers
As of 09/19/2020, Canvas will no longer support TLS Protocols 1.0 and 1.1. Most users will not be impacted by this change but if you are using an older browser version we recommend viewing What are the browser and computer requirements for Canvas? to make sure you are using a supported internet browser. If you are using an unsupported browser, we recommend upgrading your browser version or switch to a supported browser.
Canvas native media recording tool is being retired tool
As of 09/21/2020 the record media native to Canvas will no longer be available to record new video or audio. Instead, users should use Kaltura.
Instructors: Recording or Adding Lecture Content with Kaltura
Students: Create a Kaltura Video and Add to an Assignment
Any media that was already recorded using the Canvas native recorder will remain viewable in your courses and accessible to the user who recorded it in the Files area of Canvas.
Please contact Online Learning (Submit a Help Request) if you have any questions and we will get back to you during office hours.
August 26, 2020 (instructors and students)
Collapse/Expand modules button
The Modules page displays a Collapse All button, which collapses all modules in the page. When all modules are collapsed, the button changes to an Expand All button, and allows all modules to be expanded.

The button displays as Collapse All if at least one module is expanded in the page.
If a user chooses to collapse or expand one or multiple modules, the Modules page retains the state of each module indefinitely until it is changed by the user.
Direct share modules
Instructors can copy and share an entire module from the Modules page. All content within the module will be included.
Individual module items can also be copied and shared from the Modules page. However, only assignments, discussions, pages, and New Quizzes are supported. Non-supported module items do not include the Copy to or Share To options.


July 27, 2020 (instructors)
Slight change to course display on dashboard
Canvas has segmented the course display into a Published and Unpublished area. Mostly all of your courses will be in a published state and located under the Published Courses header. Your Practice Course can be found in the Unpublished Courses area.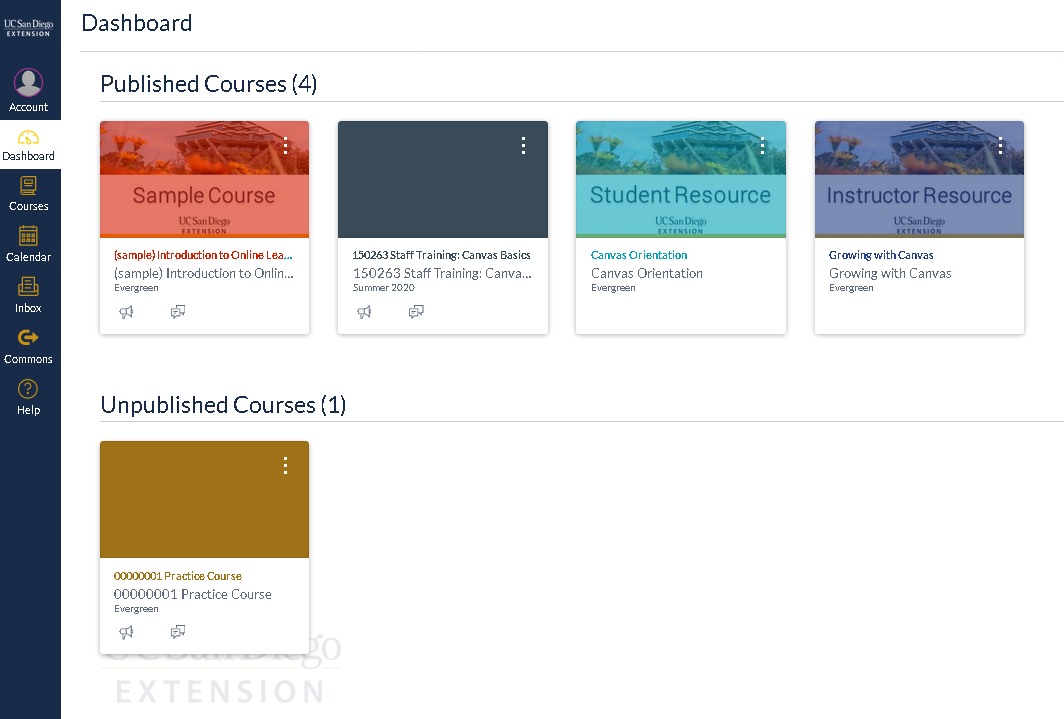 New Kaltura icon added to text box editor
Inserting Kaltura videos into your course just got one step easier. When adding content anywhere that brings up the Text Box Editor (Module Pages, Assignments, Discussions) you will see the Kaltura icon listed as an option on the tool bar (you use to have to click on plug icon).

Update assignment dates from single page
You may have already noticed this feature but we want to make sure it is on everyone's radar:
Step-by-Step directions: Bulk update due dates and availability dates as an instructor?
View a Video: Assignments: Due and Availability Date Bulk Edit
Copy or share content to another course or instructor
You now have the ability to copy an individual multiple items from one course to another, as well as share with another instructor user. For more information, please view How to copy content from another Canvas course.
If you have any questions or concerns about these features Submit a Help Request.