Follow the directions below to edit your user settings such as timezone, language and your profile picture in through Account Settings in Canvas.
If you are a Student looking to edit your email address, preferred first name or pronouns please update through https://MyExtension.ucsd.edu. These updates will flow into Canvas during the next refresh.
If you are an instructor looking to edit your email address, please update through https://Instructorlink.ucsd.edu. Contact your Department Manager to update your first name and use the below directions to update your pronouns directly in Canvas.
To get started click on Account in Canvas and select Settings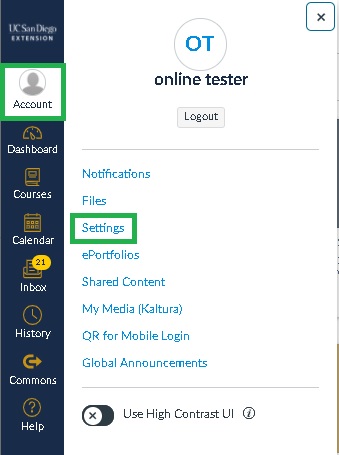 To add a profile picture click on the greyed out human icon next to your name.
To edit your timezone, language and instructor user pronouns click Edit Settings.

While you are updating your user settings we recommend you also review your Notification Settings. You can choose which events trigger a Canvas notification being sent to you and the frequency of those communications: Edit Notification Settings.