UC San Diego Extension has become the Division of Extended Studies, joining the Undergraduate and Graduate & Postdoctoral divisions. Starting in Spring 2022, you will start to see the Extended Studies name and logo replacing the Extension name and logo. Below is a list of frequently asked questions regarding this change as it relates to Canvas and our online tools, existing course content and instructional design.
When will the logo and name be changing?
We began updating the Canvas interface and our resources to reference Extended Studies the week of May 9th and will be completed by the end of May. Updated items include subtle changes in the Canvas navigation, our Syllabus and PowerPoint templates, the Instructor Resource course, the Canvas Student Orientation course our Help Center, our three Course Templates and any other resources and tools supported by our team.
What should I do about items within my course?
Please begin to use the Extended Studies name in your work as your make your updates to summer quarter. You are not required to go back and change existing course content (handouts, slides, etc.). Below is a list of common places where the name Extension appears within a course and a links to how to update. Feel free to update any text or logo references you have in your courses, particularly within the syllabus.
Am I required to update my content?
No, you are not required to go back and change existing course content (handouts, slides, etc.). We do strongly encourage you to update your course syllabus.
What do I do if I am still seeing the Extension name?
If you are seeing Extension within your course content, feel free to update. If you are seeing it in on a website or tool that UC San Diego Extended Studies manages, let us know by Submitting a Ticket. Please be sure to provide the specifics or where you are seeing it and screenshots are very helpful.
Updating your Extended Studies Syllabus
If you have not updated your Syllabus in a while, this may be a good opportunity for you to revamp it using the 2022 Syllabus Template.
If you would like to edit the text or logo within your existing Syllabus body, please refer to Updating your Syllabus with a File and feel free to use the new logo images found here:
If you need help editing the Word version of your course syllabus please refer to the following guides:
Updating Older Banners
If your course is using the older banner that contains the word Extension and looks like this:

You can either delete the banner completely or replace with the updated banners found below.
Go to Syllabus, or other, page that contains the banner and click Edit.
Click on the old banner and then hit Delete on your keyboard. If you do not want to replace it with a new banner you can click Save at this point.
To insert the new banner, place your cursor at the top of the text box editor and click the Images icon from the tool bar > drop down to select Upload Image.
Select the URL tab and paste in the address for the banner you are updating from the list below. The syllabus banner is https://onlinex.ucsd.edu/onlinelearning/CourseTemplate/banners/DES_syllabus_banner_medblue.png, paste this in the File URL field.
On this same page select Decorative Image in the Attributes area then click Submit.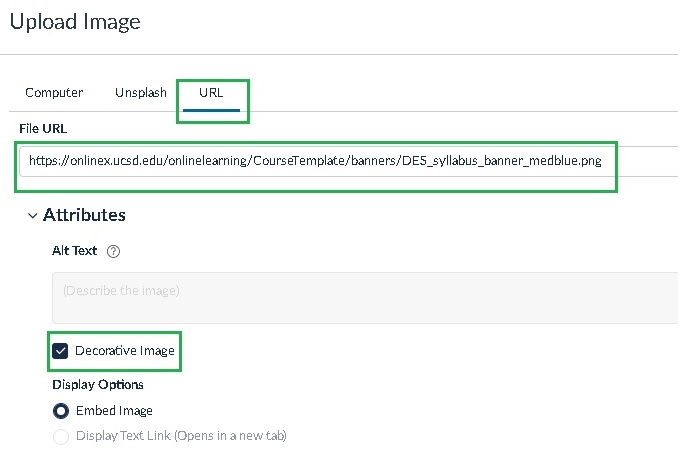 List of updated Extended Studies course banner URLs
Updating Courses that have used the Library, Pier or Sun-god Course Template
There are three places on the Homepage that reference Extension.
The first is the link to the Extended Studies main website located on the top right corner:

Please note, the old URL (https://extension.ucsd.edu) has a redirect in place and these links will continue to work. If you would like to take this opportunity to update the display name and link URL, please use the following:
New website URL: https://extendedstudies.ucsd.edu
Text to display: UC San Diego Extended Studies
Copy and Paste: UC San Diego Extended Studies
The other two references to Extension can be found in the Let's Get Started section of the template homepage:

To update the Homepage, click Edit.
Replace the words Extension with Extended Studies and the website URL with https://extendedstudies.ucsd.edu if you like and click Save.