Below is a list of new/updated features and changes that impacted our online learning systems in 2020. This article focuses on our Canvas and Kaltura systems, but will also highlight other systems used by our online users such as Zoom.
August 03, 2022
Assignment Availability Window Display Update (students)
In Assignments, when an availability window is less than 24 hours, students can view the total assignment availability window in hours and minutes.
Calendar Event Title Tooltip
When hovering over the calendar event, the tooltip displays the full event title.
Individual Student Due Date Override (instructors)
Previously, if a student was given an individual assignment override that was within the date range for a section specific override, Canvas used the most lenient assigned dates to determine the assignment availability and due date for the student.
Filtered View CSV File Download (instructors)
This update allows instructors to download CSV files with the current filters selected in the Gradebook.
Distribution Graph Statistics Update
When viewing the distribution graph for an assignment, the median and upper/lower grade quartiles and the mean, high, and low scores display for students in the Grades page.
Action Required for Modal Exit
In the Rich Content Editor, modals remain open until the cancel (x) button is clicked or the ESC key on a keyboard is pressed. This update prevents users from accidentally closing a modal and losing work in progress.
Rubric Unsaved Changes Warning (instructors)
When scoring a rubric in Speedgrader, a browser warning displays when exiting Speedgrader before saving changes.
April 23, 2022
Apply score to ungraded submissions (instructors)
In the Grades area within a Canvas course, instructors now have the option to apply a score to all ungraded assignments within a specific assignment group or for the total grade book in one batch.

For full details about this feature option, please see Apply Score to Ungraded Assignments.
Default due date time on course level (instructors)
When an instructor sets due dates on course assignments they can specify a time. The system default time is 11:59pm. If you would like this time you be different, you can edit it on the individual assignment or you now have the option to set your own default due date time on your course.
To update the due date time in a course enter you course and go to Settings. Scroll down to the Default due time field and enter the time you prefer.

Please note, the Assignment Default Due time will not update existing assignments with due dates already set.
Icon maker in rich content editor (instructors)
This change provides instructors the ability to create simple and reusable icons in their courses without using an external tool. The Icon Maker allows basic customized iconography to be created directly within the Rich Content Editor including text within shapes that also be turned into web or course links.
Please read our Using the Icon Maker in Canvas article for directions.
October 16, 2021
Sticky Navigation Menus (all users)
The Account, Course, and User Navigation Menus remain sticky and are always visible on their respective pages. This change allows users to access the menus at any time.
When a long page scrolls down on a page, the respective menu is retained in the sidebar. If the navigation menu is longer than the height of the screen, the menu can also be scrolled to view all menu links.
Editable Submission Status Labels through SpeedGrader (instructors)
Instructors are now able to edit submission status labels in SpeedGrader. The SpeedGrader sidebar includes an Edit icon to be used for submission statuses. Statuses can be edited the same way as in the Gradebook. Additionally, adjusting a status in SpeedGrader also applies to the Gradebook.

For more information, view Submission Status Label Edits.
Assignment Search Available in Gradebook (instructors)
The Gradebook includes an Assignment Names search field, in addition to the already existing search for student names. The Gradebook includes two search fields: one for student names, and one for assignment names. Using the Assignment search field displays any search results that match an assignment in the course.
Course Notification Customization available in User Notification Settings (all users)
Users are now able to modify course notifications without having to access the course-level Notifications page for each course. However, if a user has any active course enrollments, the menu displays the name of each course. Users can navigate between their courses and set specific notification options for each course, if preferred. Any updated notifications also sync to the course-level Notifications page.
Microsoft Immersive Reader supports additional pages (all users)
Microsoft Immersive Reader now supports individual Assignments, the Course Home Page, and the Syllabus.
Accessibility Checker Available in Rich Content Editor (all users)
The Accessibility Checker shows content creators when accessibility concerns are detected without needing to open the Accessibility Checker. When the Accessibility Checker Notification is enabled for a course, any accessibility issues detected within the Rich Content Editor display an indicator.
For more information, view How to use the Accessibility Checker in the Rich Content Editor?
September 14, 2021
Easier access to My Media (all users)
To streamline access to your Kaltura media, we've added a navigation menu item to your User Account Menu in Canvas. If you're an instructor, we removed the My Media course menu item since this is more accessible from anywhere in Canvas.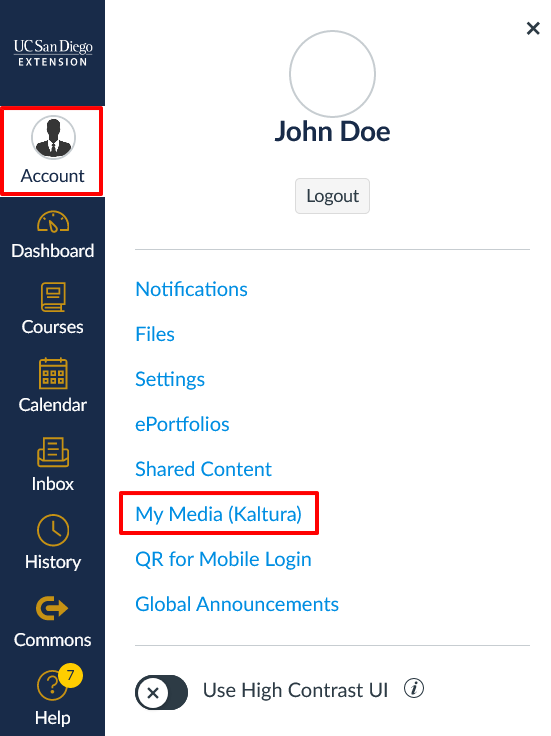 June 19, 2021
Comment library (instructors)
Instructors now have the ability to reuse common text for comments/feedback on student assignment submissions. Please see How do I use the Comment Library in SpeedGrader? for more information.
April 21, 2021
Term or course dates displayed in settings (instructors)
Within the settings for your course, Canvas now displays the term or course dates that your content may be associated with. This only affects display purposes, as UC San Diego Extended Studies programs student access on the individual student, not on the course level, so these dates do not impact anything within your course. Read Why are the dates wrong in my Canvas course? for more information.
New link to Canvas-generated help guides
Within the Help menu in Canvas, users now have access to a link for Canvas-generated guides and tutorials. You may find this useful if you are unable to find information from UC San Diego Extended Studies help center. Please note, some aspects of the interface or tools may be different as the Canvas-generated content applies to a generic instance, which may or may not have the same look or features that UC San Diego Extended Studies uses.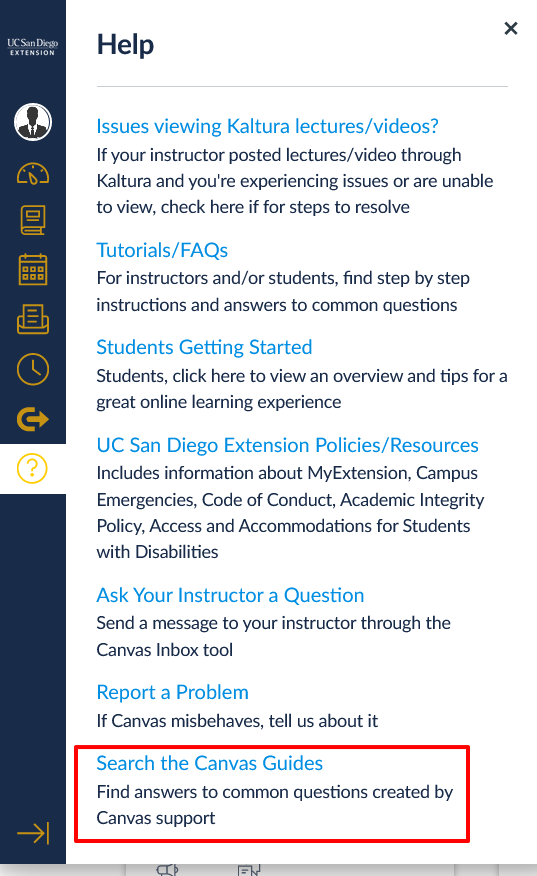 Form to request third party app/integration installation (Instructor and Staff)
Program managers and instructors may now initiate a request for Online Learning to evaluate a third party tool/integration within Canvas. Due to privacy and troubleshooting concerns, we will need to determine whether the tool that you request applies the UC San Diego privacy policy, protects student data, and benefits the overall instructor and student experience. To learn more about supported tool integrations and submit an evaluation request please visit Third Party Tools and Canvas Integrations.
Once you submit the form, we will provide a response within 30 days and follow up with you once we have made our decision and next steps.
Machine-generated captions enabled for Kaltura media created prior to 11/20/20
UC San Diego Extended Studies is continuously improving our accessibility capabilities to better serve the diverse needs of our students. To increase accessibility and enhance the student experience within Canvas, we have enabled machine-generated captions for all uploaded course media. These machine-generated captions are editable and we encourage you to review and refine: How to Edit Machine Generated Captions.
Note: Media uploaded to Kaltura after November 25th, 2020 will already have machine-generated captions added as a default behavior without any additional steps or notifications.
March 20, 2021
Webcam Submissions (students)
For File Upload assignments, students may now use their webcam to take a photo and then upload for their submission.
File Preview Enhancements (all users)
Files linked in the Rich Content Editor can be previewed in an overlay or inline. Users now have the ability to control the display of the file preview. Previously all file previews opened in a new browser tab.
Users who link a file can open the File Options menu and indicate a preview type:
Preview in overlay displays the existing file preview functionality, where the file preview opens and overlays the entire page.
Preview inline loads the displays the preview directly in the Rich Content Editor window once the file is clicked. If the option to expand the preview by default is also selected as an option, the file is automatically expanded in the page and the user does not need to click the file to view it. Instead, the user can close the preview by clicking the Minimize Preview link that displays along with the image.
Submission Reassignments (instructors)
In SpeedGrader, instructors can reassign an assignment with a due date to an individual student and ask them to redo their submission.
For online assignments that allow multiple attempts and have a due date, instructors can view a Reassign button in SpeedGrader. If they require a student to redo an assignment, they can reassign the assignment directly to the student from within their grading workflow in SpeedGrader. The instructor must first provide feedback regarding the assignment, which will enable the button. The reassignment does not change the original due date for the student.
Notes:
The Reassign Assignment button is not available for External Tools (LTI), on paper, and no submission assignments.
The Reassign Assignment button is only available for assignments with due dates.
If an instructor returns to SpeedGrader after navigating away from the page, the Reassign Assignment button shows that the assignment has been reassigned.
If the assignment's settings do not allow students to make an additional attempt, the Reassign Assignment shows that the assignment is not able to be reassigned.
February 22, 2021
Immersive Reader available for pages (instructors and students)
To improve accessibility, users now have the ability to use the built-in Immersive Reader on pages. The Immersive Reader offers additional tools and options to enhance your reading experience.
Please note, this is only available on content within pages only and is not currently available for other types of content (e.g., Assignments, Discussions, etc.). For more information, please view:
View Ungraded as Zero (instructors)
Instructors now have the ability to view unsubmitted or ungraded student submissions in the total column with a score of 0. This is a visual change in identifying grading calculations for ungraded assignments and does not actually affect any grades.
The View menu includes the View Ungraded as 0 option, which allows instructors to view student grades as if all ungraded assignments were worth zero points.
Please view How to View Ungraded as Zero for more information.
Visual improvements to HTML editor (instructors and students)
Within the rich content editor, when you click on the HTML editor icon, users now have the option to toggle between a visually improved version of the HTML (Pretty HTML Editor)and the previous version of the HTML (Raw HTML Editor). Please note, only the Raw HTML Editor is currently accessible to screen reader users.
Kaltura My Media shortcut available in User Account navigation (instructors and students)
Users now have the ability to access their Kaltura My Media through the User Account navigation menu. This reduces the need to access My Media through the Rich Content Editor or through a Course Navigation menu.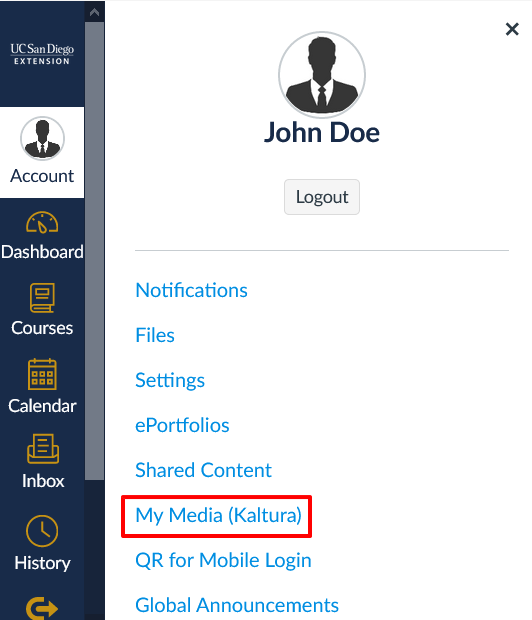 New label on Kaltura player for machine-generated captions
There is a new label on the caption drop-down indicating machine-generated captions by English (auto-generated). This change will be applied to videos uploaded after 2/22/21. Previously uploaded files with machine-generated captions will continue to be labeled as English.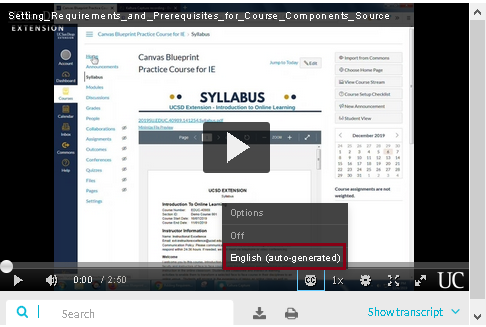 December 2020
December 19: Individual page student view (Instructors)
On most course pages within a course, there is now a Student View button that allows instructors to quickly view individual pages using the Test Student view.
The Student View button does not display in pages that are not visible to students, such as the Course Settings page. If an instructor clicks the Student View button from a page or other location that has been hidden to students, such as in Course Navigation, the page redirects back to the home page.
December 14: Zoom notifications sent by Canvas (instructors and students)
December 14- When an instructor goes through the Zoom menu option within the Canvas course to schedule and access course meetings students will now be notified when a new meeting is scheduled and when a course recording becomes available.
*If you are an instructor and do not want your students to receive an automatic notification when a new meeting is created or when a recorded session becomes available, then you will want to interact with Zoom directly through the Zoom app rather than accessing through your Canvas course.
December 2: Improved sidebar and search functionality (instructors and students)
December 12- When using the rich content editor to add links, images, documents, or media through the sidebar, you now have the ability to search for the item you want to deploy.
Additionally, you now have the ability to deploy multiple links and user files (as well as group or course files, when applicable), as those can be added to the editor without having to continually open the sidebar.
November 25, 2020 (instructors and students)
Machine-generated captions automatically available on newly uploaded/recorded media in Kaltura
To improve accessibility, all content that is either recorded or uploaded to Kaltura will automatically include machine-generated captions. Depending on the size or duration of the media, the captions should appear within 24 hours.
Please note, because these are machine-generated captions, the accuracy will not be 100%. You have the ability to edit and clean up these captions by following How to edit captions
Once Kaltura generates the captions, you have the ability to display them as captions within the media player or as a transcript below the player.
September 19, 2020 (instructors and students)
TLS protocol changes impacting users on older browsers
As of 09/19/2020, Canvas will no longer support TLS Protocols 1.0 and 1.1. Most users will not be impacted by this change but if you are using an older browser version we recommend viewing What are the browser and computer requirements for Canvas? to make sure you are using a supported internet browser. If you are using an unsupported browser, we recommend upgrading your browser version or switch to a supported browser.
Canvas native media recording tool is being retired tool
As of 09/21/2020 the record media native to Canvas will no longer be available to record new video or audio. Instead, users should use Kaltura.
Instructors: Recording or Adding Lecture Content with Kaltura
Students: Create a Kaltura Video and Add to an Assignment
Any media that was already recorded using the Canvas native recorder will remain viewable in your courses and accessible to the user who recorded it in the Files area of Canvas.
Please contact Online Learning (Submit a Help Request) if you have any questions and we will get back to you during office hours.
August 26, 2020 (instructors and students)
Collapse/Expand modules button
The Modules page displays a Collapse All button, which collapses all modules in the page. When all modules are collapsed, the button changes to an Expand All button, and allows all modules to be expanded.

The button displays as Collapse All if at least one module is expanded in the page.
If a user chooses to collapse or expand one or multiple modules, the Modules page retains the state of each module indefinitely until it is changed by the user.
Direct share modules
Instructors can copy and share an entire module from the Modules page. All content within the module will be included.
Individual module items can also be copied and shared from the Modules page. However, only assignments, discussions, pages, and New Quizzes are supported. Non-supported module items do not include the Copy to or Share To options.


July 27, 2020 (instructors)
Slight change to course display on dashboard
Canvas has segmented the course display into a Published and Unpublished area. Mostly all of your courses will be in a published state and located under the Published Courses header. Your Practice Course can be found in the Unpublished Courses area.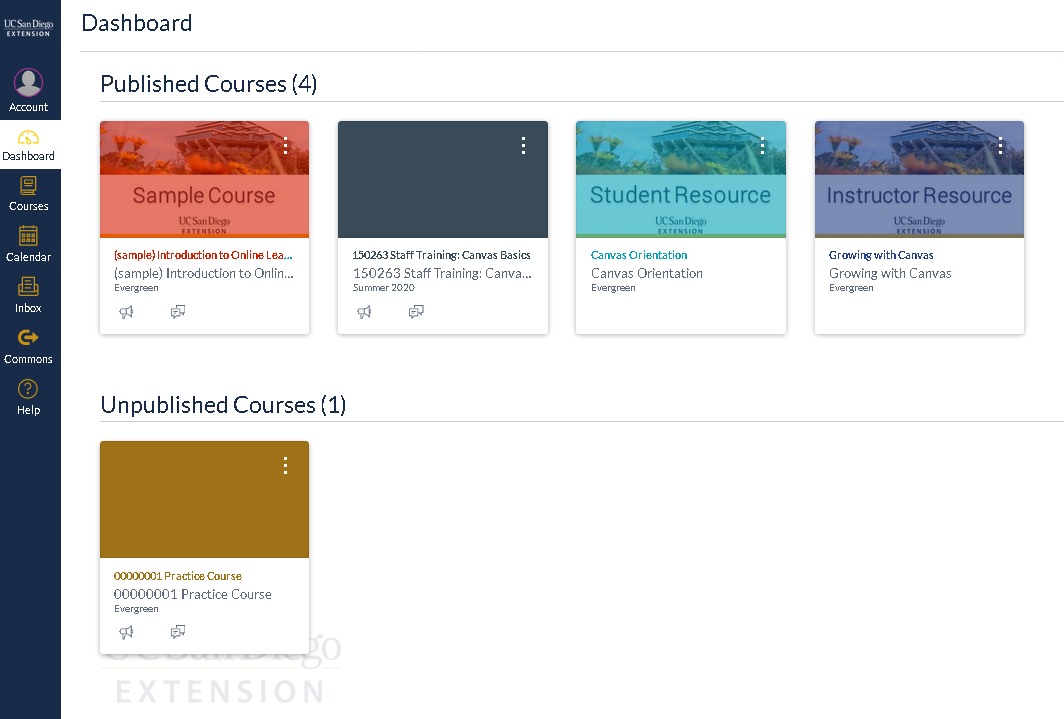 New Kaltura icon added to text box editor
Inserting Kaltura videos into your course just got one step easier. When adding content anywhere that brings up the Text Box Editor (Module Pages, Assignments, Discussions) you will see the Kaltura icon listed as an option on the tool bar (you use to have to click on plug icon).

Update assignment dates from single page
You may have already noticed this feature but we want to make sure it is on everyone's radar:
Step-by-Step directions: Bulk update due dates and availability dates as an instructor?
View a Video: Assignments: Due and Availability Date Bulk Edit
Copy or share content to another course or instructor
You now have the ability to copy an individual multiple items from one course to another, as well as share with another instructor user. For more information, please view How to copy content from another Canvas course.
If you have any questions or concerns about these features Submit a Help Request.